Fully Automatic Finger Spring Roll Production Line (Spring Roll Machine, Anko Food Machine)
Model No.:FSP
Made in:Taiwan
ANKO - The best automatic finger spring roll machine manufacturer provides customized service and multi-functional equipments worldwide.
Spec
Product Type:Spring Roll
Width:1500 mm
Length:6500 mm
Height:2400 mm
Electricity:220/380/415/440 V,50/60 Hz,3 Phase,35 kW
Capacity:1600-6400 pcs/hr
Hopper Capacity:31L
Pastry Width:Max. 220m
Pastry Thickness:0.4-0.7mm
Length of Product:75-300 mm
Diameter of Product:15-25 mm
Key Features
ANKO Fully Automatic Finger Spring Roll Production Line (FSP)
After pouring batter into ANKO Fully Automatic Finger Spring Roll Production Line, the batter is evenly baked into a pastry belt which then is cooled as conveyed to filling extruder. The carefully-designed rolling machine fully wraps filling inside spring roll pastry. Through the cutting process, up to 6,400 rolls can be made in an hour. Double line is also provided for boosting capacity to 12,800 per hour. ANKO also offers a variety of optional accessories to satisfy individual requirements.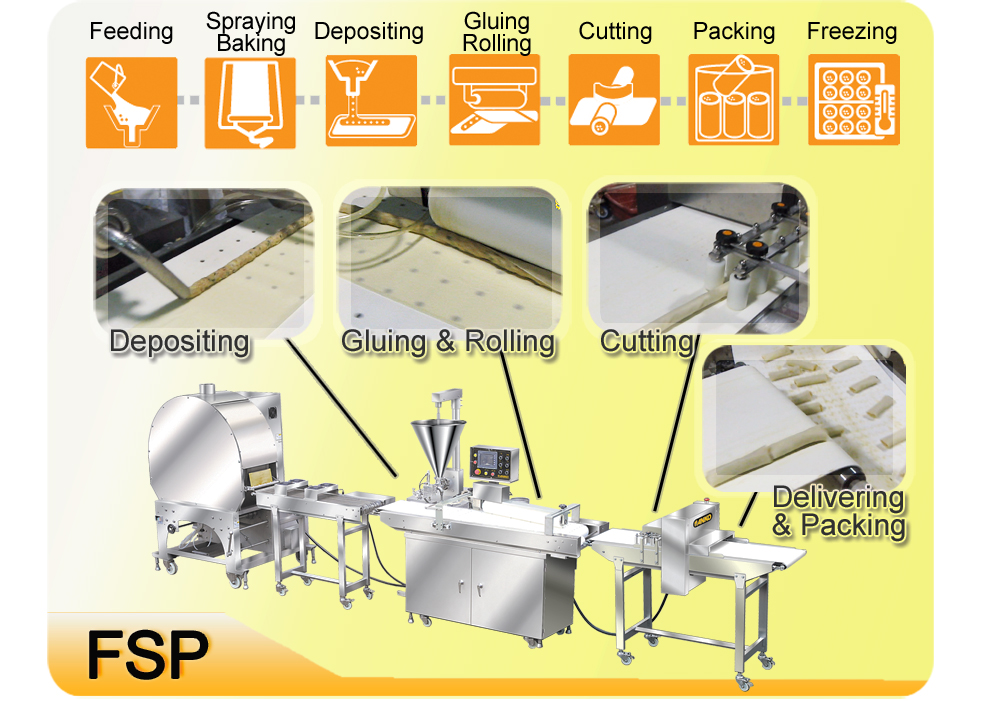 Advanced Design, Sanitary & Safety Device

The machine is easy to assemble, clean and maintain.

All parts conta

cting

with food are made of food grade stainless steel.

All the electronic components meet the international standard.

Wide Variety of Products

Pastry: spring roll pastries, crepes, egg sheets, etc.

Stuffing: meat, cheese, red bean paste, chocolate, date paste, fruit jam, etc.

Combine different kinds of pastry and stuffing, you may create new value-added snack of finger food.


After Sales Service

Main Export Market
AFRICA ,ASIA ,AUSTRALASIA ,C-AMERICA ,EUROPE ,MID-EAST ,N-AMERICA ,S-AMERICA
Payment Details
Payment Terms:TT ,L/C
Minimum Order:1 Sets
Attachment
Video
ANKO Fully Automatic Finger Spring Roll Production Line
---
You may also like