2019 National Restaurant Association Show (NRA)
21/02/19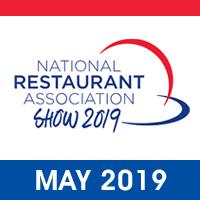 The annual NRA show features kitchen appliance, food machine, beverage, food, tableware, etc. According to the official projected statistics, over 2,300 exhibitors will attend to offer the upcoming trends, various kinds of foods and equipment. Welcome to visit ANKO's booth in the show.
Are you tired of waiting to get an answer? To fill in the reservation form below, we will arrange a one-on-one meeting for you in advance. Let us know what model you are interested in and your visiting date. In addition to the stand-alone models showed in the form, ANKO could provide turnkey projects to assist you to set a production line from scratch, so please feel free to contact us.
If you have an interest in our company and products, visit us and we will offer you the best solution with our 40 years' experience in food machine industry.
See Us at the Show
Address:McCormick Place, Chicago, IL 60616, USA
Machine at the show:
to be announced