2017 GULFOOD in United Arab Emirates
01/04/17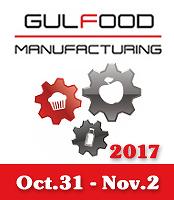 Islamic culture is one of the mainstream cultures in the world. It has had effects on the cuisine in Middle East. With the globalization, the food culture is spread to other countries as Middle Eastern people immigrate; as a result, the demand of Middle Eastern food processing machinery is growing fast and creates great opportunities.
ANKO will display all types of ethnic food processing machines at 2017 Gulfood Manufacturing in Dubai. Welcome to have free catalogues, join us for machine introductions and demonstrations from our professional engineers. ANKO is worthy of your trust. Seeing is believing.
If you plan to visit our booth, please click RESERVATION icon to fill in the following form. We will set up a visit and assign a professional engineer to assist you.
See Us at the Show

Date: 10:00 am - 6:00 pm, 31 October to 2 November, 2017

Address:Dubai World Trade Centre

Hall: ZAB5

Booth:Z5-G64

Machine at the show:

● HLT-700XL for Dumpling, Samosa, Soup Dumpling, etc.

● SD-97SS+STA-360 for maamoul

● SD-97W+CV-1000 for Chapati, Stuffed Paratha